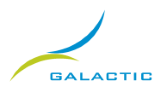 Area Sales Manager bij GALACTIC
Escanaffles, Hainaut 7760
Company details
Since 1994 Galactic has become one of the world's greatest leaders in biotechnology serving the food, feed, personal & health care, and industrial markets. Based on its valuable experience in the fermentation of lactic acid and other derivatives, Galactic continuously develops sustainable, innovative and health-friendly solutions in the field of food safety, nutrition and green chemistry. With headquarters in Belgium, production facilities in the United States (Milwaukee), China (Bengbu) and Europe (Escanaffles), and sales offices in Belgium (Brussels), China (Bengbu), United States (Milwaukee), Japan (Tokyo) and Brazil (Curitiba), Galactic employs more than 220 people worldwide and is active in more than 65 countries.
To reinforce our sales team based in Brussels, we are looking for an Area Sales Manager
Function
You are responsible for developing and strengthening the Galactic business in your respective area.
You manage and develop large end users and distributors by establishing close relationships.
You perform active research and analyses on markets and industries, in order to assess potential commercial opportunities.
You effectively pursue new opportunities, new businesses and new customers.
You maximize profitability, sales volume and margins.
You develop strategies to build a pipeline and generate large account opportunities. Within the existing customer base, you develop revenue opportunities.
With the customer service assistance you ensure proper order handling and price strategy implementation.
You understand the dynamic of your business and are able to provide regular forecasts.
Profile
You have a higher (technical or business) education.
You have 2-3 years commercial experience.
You have a proven track record in B to B sales and management of distributors, preferably in foods ingredients and / or chemicals.
Experience in and knowledge of the food ingredients industry is preferential.
You are ready to travel on a regular basis (in your dedicated countries).
Your mother tongue level is German and you are fluent in English. Knowledge of French or another European language is an advantage.
You have an extravert, enthusiastic and proactive personality and are customer oriented.
Offer
A challenging position giving you the possibility to take an active part to the development of a young and innovative company.
A human sized company with international dimension, encouraging autonomy and team spirit.
An interesting salary package with extra-legal advantages.